SIGMA Standard
SIGMA Standard
Product Overview
With a flat frequency passband from DC to 400Hz the SIGMA is a force balance accelerometer with one of the widest frequency responses currently on the market. It comes with four remotely configurable saturation levels between +/- 4g and +/- 0.5g. The SIGMA accelerometers are very easy to install. A single point slotted base bolt ensures that the sensor will be fixed firmly to the installation point. Three levelling feet ensure that the sensor is levelled and locked to the installation bolt.
The unique design of the connector turret allows easy connection to the sensor. All the connectors are waterproof with O-ring seals to a water depth of up to 2 meters.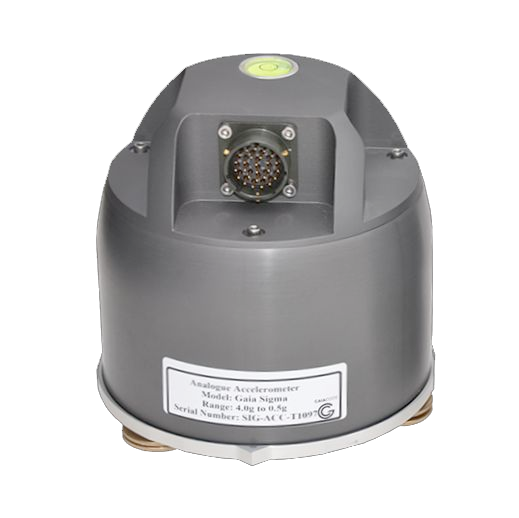 SIGMA Standard
Key Features
Instrument Design
- Classical orthogonal sensor topology with sensor axes pointing in the three cardinal directions.
- Fine pitched adjustable feet manufactured from brass.
- All sensor components are made of non-magnetic materials, minimizing noise induced by outside magntic fields.
- Single slotted base fixing point
Instrument Characteristics
- Flat frequency response from DC to 400 Hz.
- Four remotely configurable saturation levels between +/- 4g and +/- 0.5g.
- Other options down to +/- 0.05 g available.
- Dynamic range at +/- 2g >170 dB, at +/- 4g >167 dB
- Operational range within +/- 10.0 degrees of tilt.
- Cross axis rejection >-70 dB.
- Operating temperature range: -20 to 75 deg C.
Enclosure
- Rugged housing made from hard anodized aluminium.
- Weight 2.38 kg.
- Dimensions: outer diameter 14 cm, height 12.5 cm
- Waterproof as per IP68 standard.
Power and Electronics
- Power consumption 490 Milliwatt at 12 V
- Power operating range from 9 to 36 Volt.
- The sensor's electronic circuitry is galvanically isolated, protected against polarity switch and voltage transients.
To obtain a detailed data sheet for this seismometer, please contact Gaiacode Headquarters
Disclaimer: The product specifications and the stated data are subject to change without prior notice.