Θ

THETA-TT120-VEL.
THETA-TT120-VEL
Product Overview
Theta-TT120-Vel is a mid-range portable feedback broadband seismometer housed inside a waterproof enclosure. The low noise high dynamic range broadband feedback seismometer is based on a truly rectilinear suspension system which does not require mass lock.
Detailed sensor calibration information is provided with every sensor, including sensor dc calibration levels, frequency response of the instrument and the transfer function in poles/zeros notation.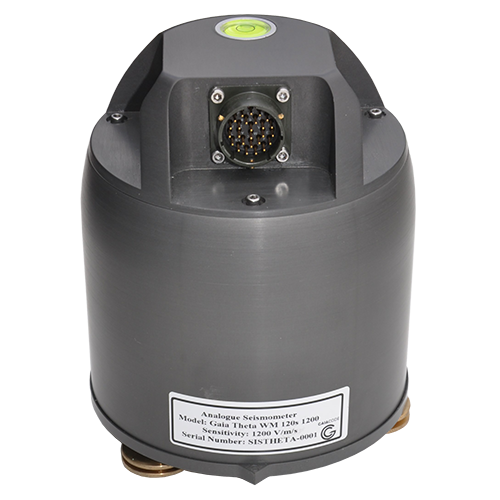 The THETA family sensors are broadband seismometers incredibly simple to deploy in large arrays and suitable for local, regional and teleseismic recording.
It is extremely simple to install the sensor, three leveling feet ensure that the sensor can be leveled easily with the aid of the bubble level. The North/South ordination points are machined on the sensor base and the sensor component fixing crews are fixed with dowel pins to achieve highest possible orientation accuracy. The errors in pointer to the sensor orientation is less than ± 0.1 degrees.
THETA-TT120-VEL
Instrument Specifications
Suitability
Single or large scale seismic networks
Micro-seismic monitoring
After-shock monitoring
Volcanology
Hydrocarbon exploration
Permanent reservoir monitoring
Induced seismicity detection
Explosion monitoring
Posthole seismology
Micro-seismic monitoring
Benefits
High data quality broadband data
Truly rectilinear suspension system with high cross axis rejection
Broadband data with high frequency response extending to 150 Hz
Minimises equipment used during installation
Automatic self-installation and zeroing for quick installation
Tilt tolerance of ±10 degrees
Portable and easy to deploy
Waterproof with connectors mated
Connector turret provides easy access to the connectors and cabling