THETA Digital
THETA Digital
Product Overview
In combining a standard three component THETA seismometer with our well proven 24-bit
TAU
digitizer, this Digital THETA is a seismometer with a fully digital output. This two-in-one package eliminates the need for an extrernal digitizer, thereby saving valuable deployment space. It also makes installation extremely easy, as there is no need to handle bulky seismometer cables. In conjunction with our
OMEGA
control and data acquisition software, this seismometer can be fully remotely controlled and operated. Three available user interfaces (10/100 Base-ehternet, USB and Serial RS232) makes communication with this seismometer easy and reliable.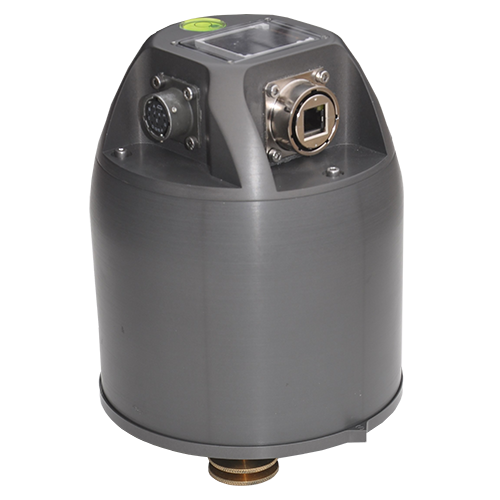 THETA Digital
Key Features
Instrument Design
- Classical orthogonal sensor topology with sensor axes pointing in the three cardinal directions.
- Fine pitched adjustable feet manufactured from brass.
- All sensor components are made of non-magnetic materials, minimizing noise induced by outside magntic fields
Instrument Characteristics
- Flat frequency response from 0.008333 Hz (120 seconds) to 150 Hz.
- Other response options: 0.033 Hz (30 sec) to 150 Hz and 0.0166 Hz (60 sec) to 150 Hz.
- Lowest spurious resonance: 340 Hz on both vertical and horizontal sensors.
- Operational range within +/- 10.0 degrees of tilt.
- Offered in a whole range of sensitivities from 2*750 to 2*5000 V/m/s (differential output)
- Cross axis rejection >-70 dB.
- Operating temperature range: -20 to 75 deg C.
Enclosure
- Rugged housing made from hard anodized aluminium.
- Weight 6.5 kg.
- Dimensions: outer diameter 16.5 cm, height 30.4 cm
- Waterproof as per IP68 standard.
Power and Electronics
- Power consumption 490 Milliwatt at 12 V for 120 sec version, 420 mW for 30 sec version.
- Power operating range from 9 to 36 Volt.
- The sensor's electronic circuitry is galvanically isolated, protected against polarity switch and voltage transients.
Digitizer
- 24 bit digital output.
- See here for detailed information about the TAU digitizer
To obtain a detailed data sheet for this seismometer, please contact Gaiacode Headquarters
Disclaimer: The product specifications and the stated data are subject to change without prior notice.