ALPHA Posthole
ALPHA Posthole Seismometer
Product Overview
The posthole version of the ALPHA seismometer can be deployed in the roughest field conditions, from wet surface installations over postholes deployments to sinking the instrument into shallow boreholes. A hermetically sealed and potted mil-spec connector at the top of the seismometer provides the most robust water tightness available, assuring the same performance characteristic as for the ALPHA Surface/Vault version. Two eye hooks and a bracket to attach an installation rod on the seismometer lid allow for secure and easy deployments in post- and shallow boreholes.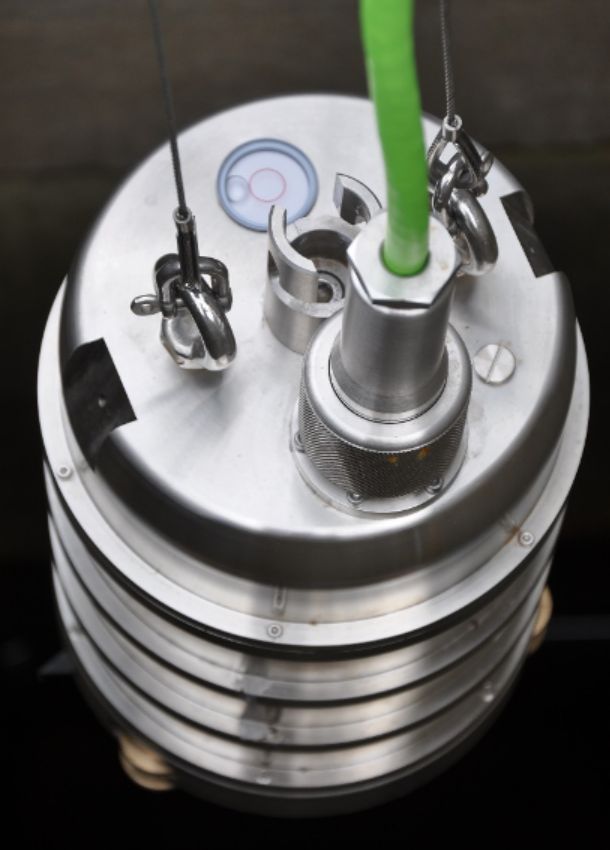 ALPHA Posthole Seismometer
Key Features
Instrument Design
- Classical orthognal sensor topology pointing in the three cardinal directions.
- Fine pitched adjustable feet manufactured from phosphor bronze.
- Shielded against external magnetic disturbances by mu-metal inside the casing
- Doubled nested feed back loop.
Instrument Characteristics
- Flat frequency response from 0.008333 Hz (120 seconds) to 150 Hz.
- Offered in a whole range of sensitivities from 2*750 to 2*10,000 V/m/s (differential output)
- Operational range within +/- 5.0 degrees of tilt.
- Cross axis rejection >-75dB.
Enclosure
- Rugged housing made from 316 stainless steel material.
- Weight 14.5 kg.
- Dimensions: outer diameter 16.5 cm, height 28.4 cm
- Waterproof as per IP68 standard.
Power and Electronics
- Power consumption < 1 Watt within the operating range from 9 to 36 Volt.
- Input power is protected against reversed polarity.
- The whole electronic circuitry is two stage galvanically isolated.
To obtain a detailed data sheet for this seismometer, please contact Gaiacode Headquarters
Disclaimer: The product specifications and the stated data are subject to change without prior notice.